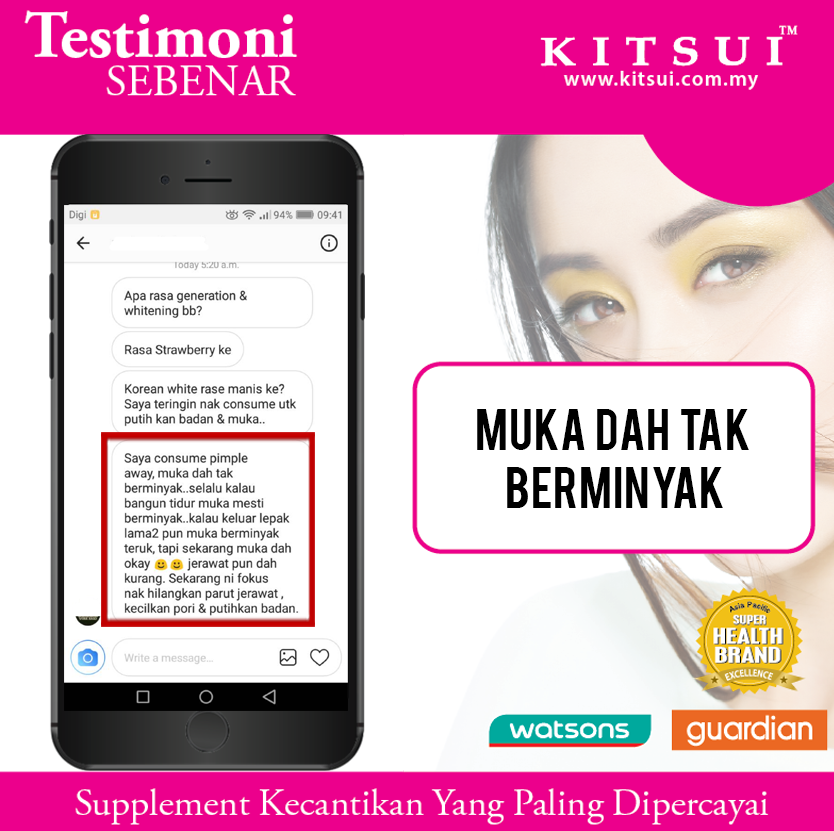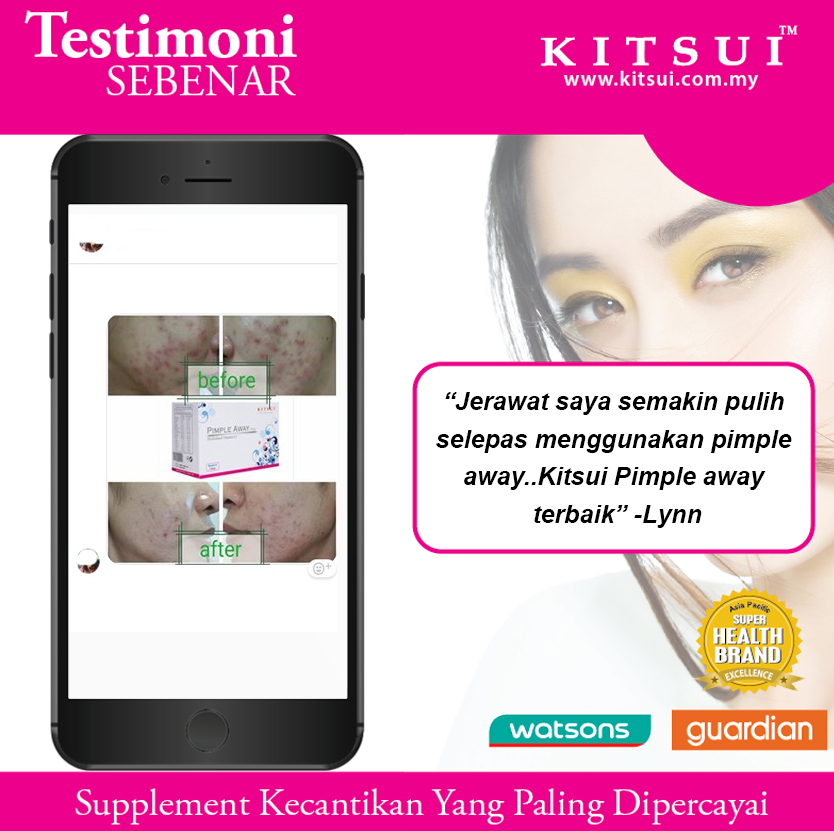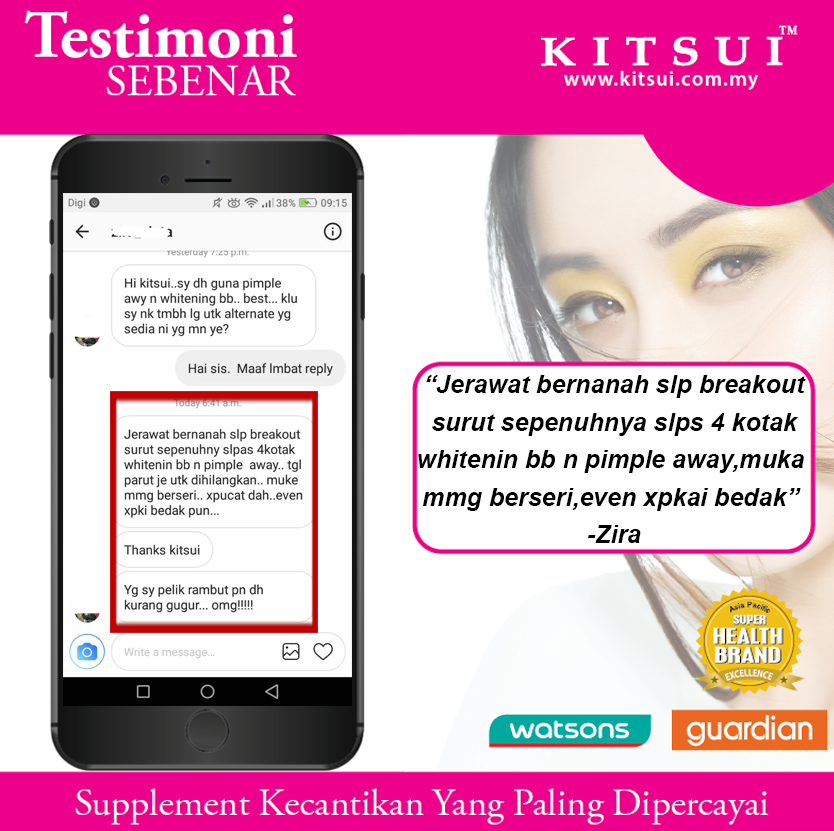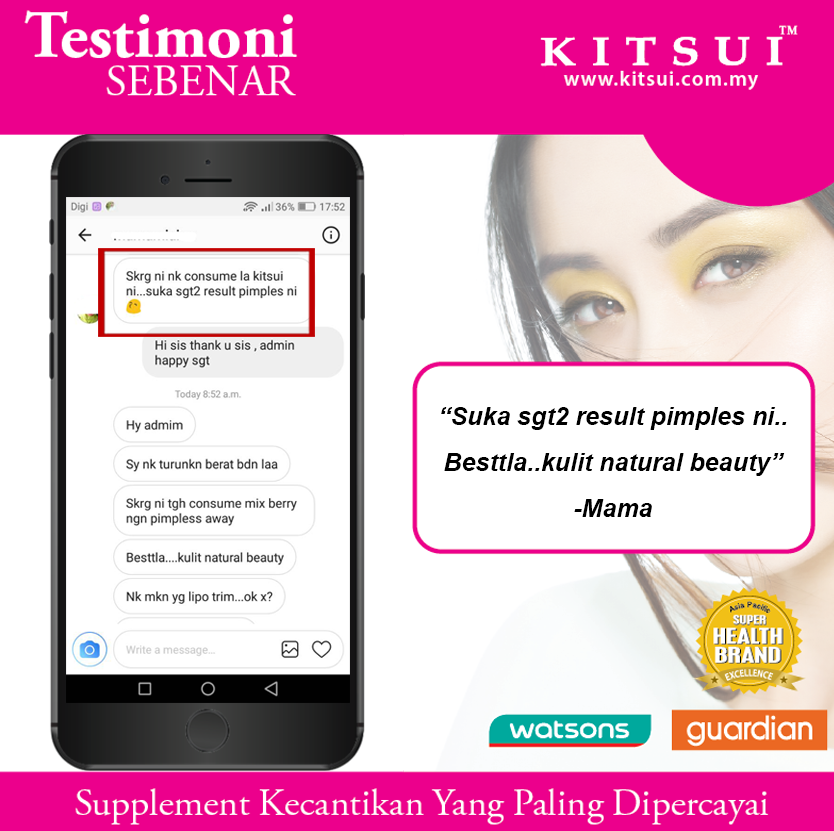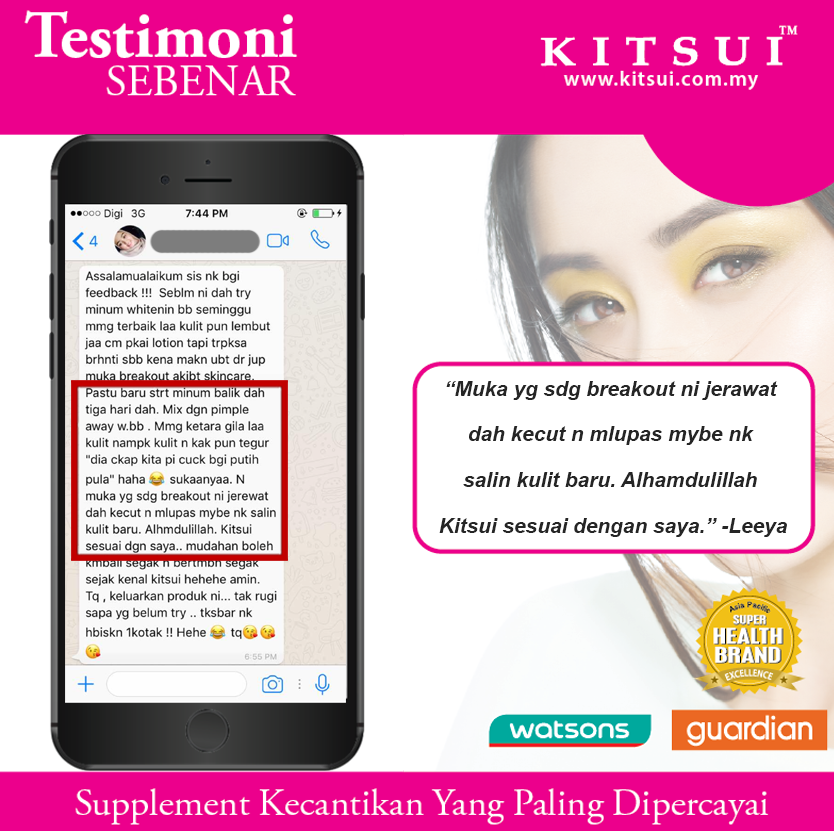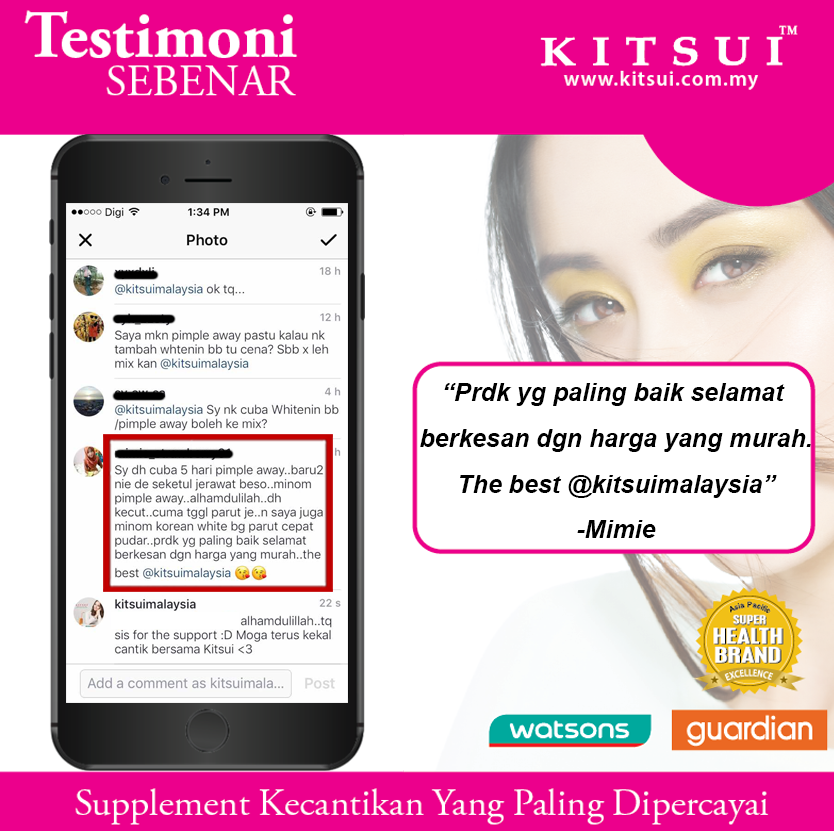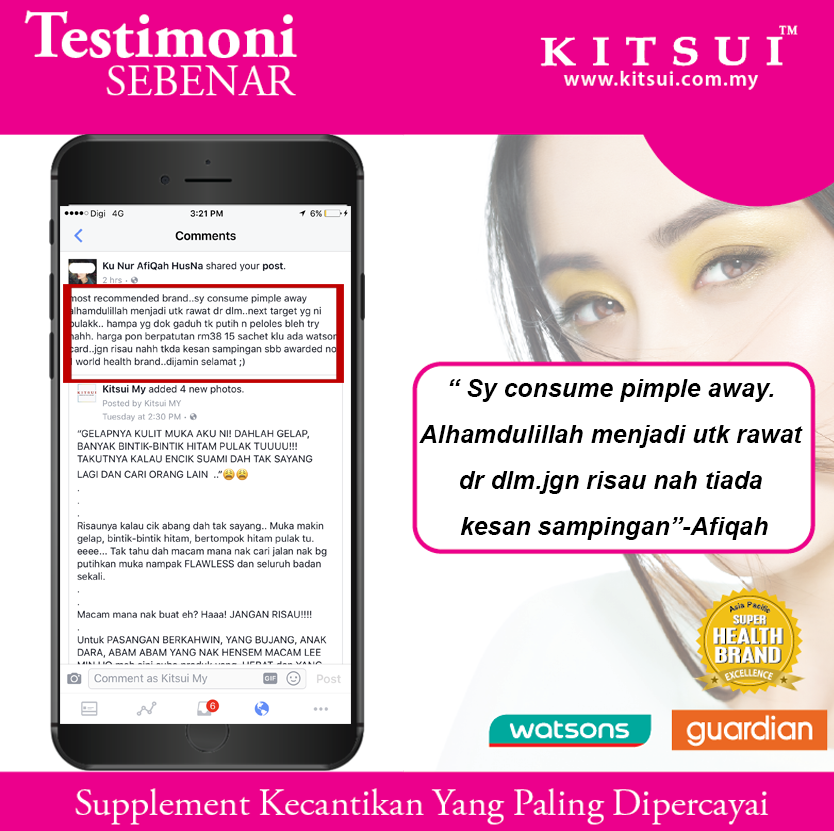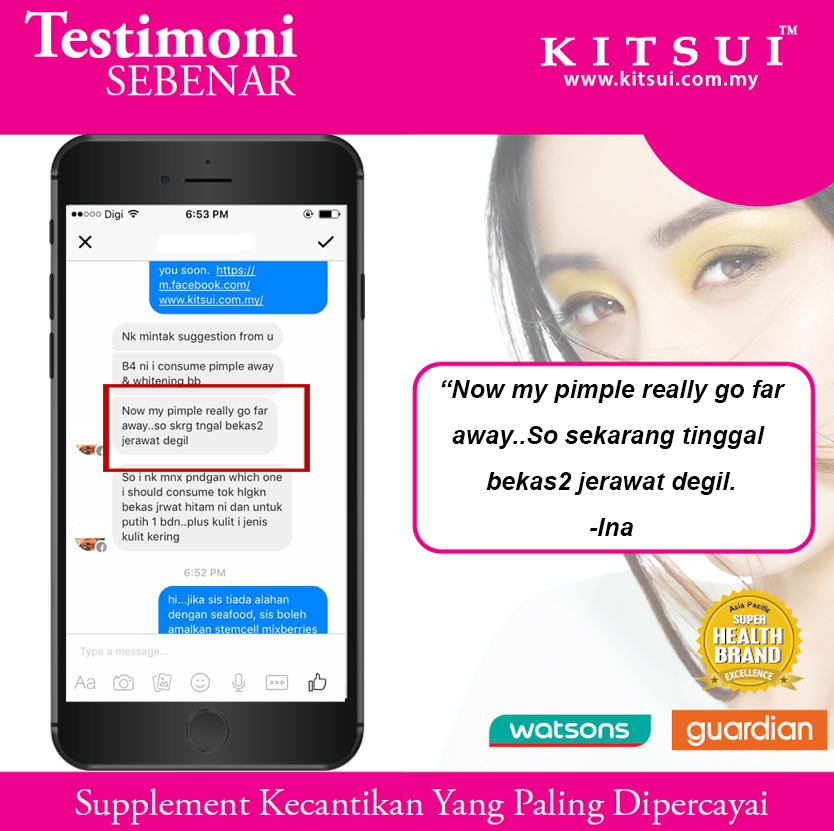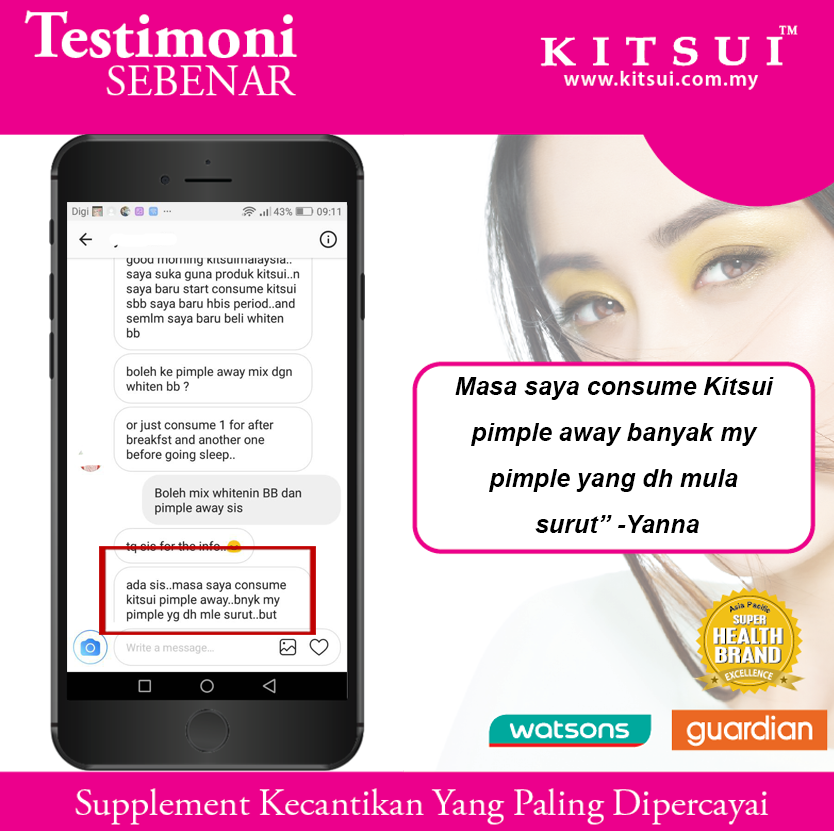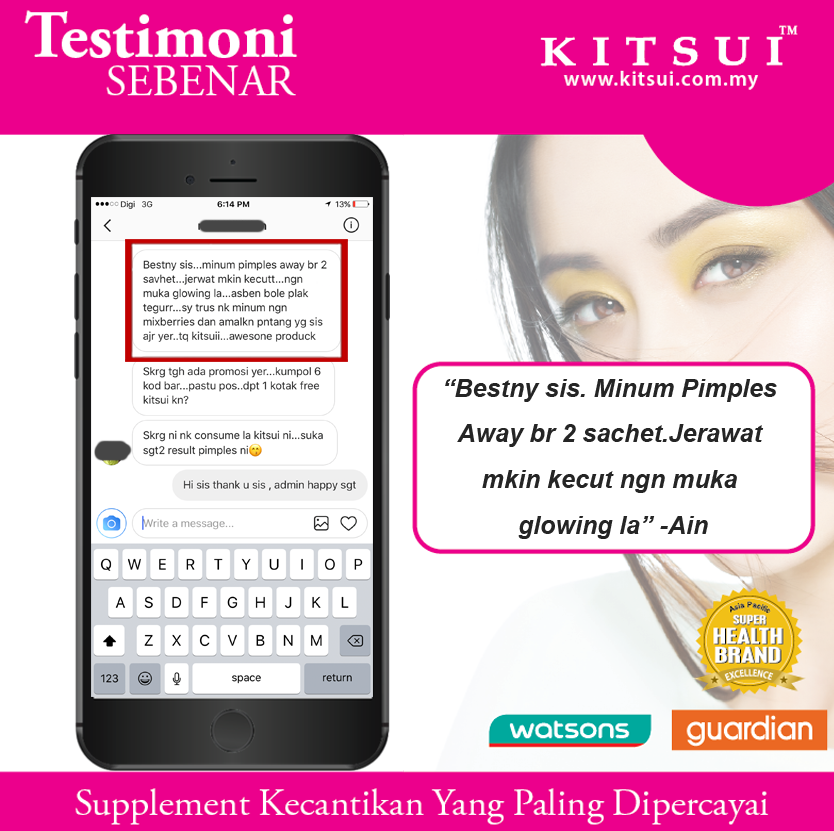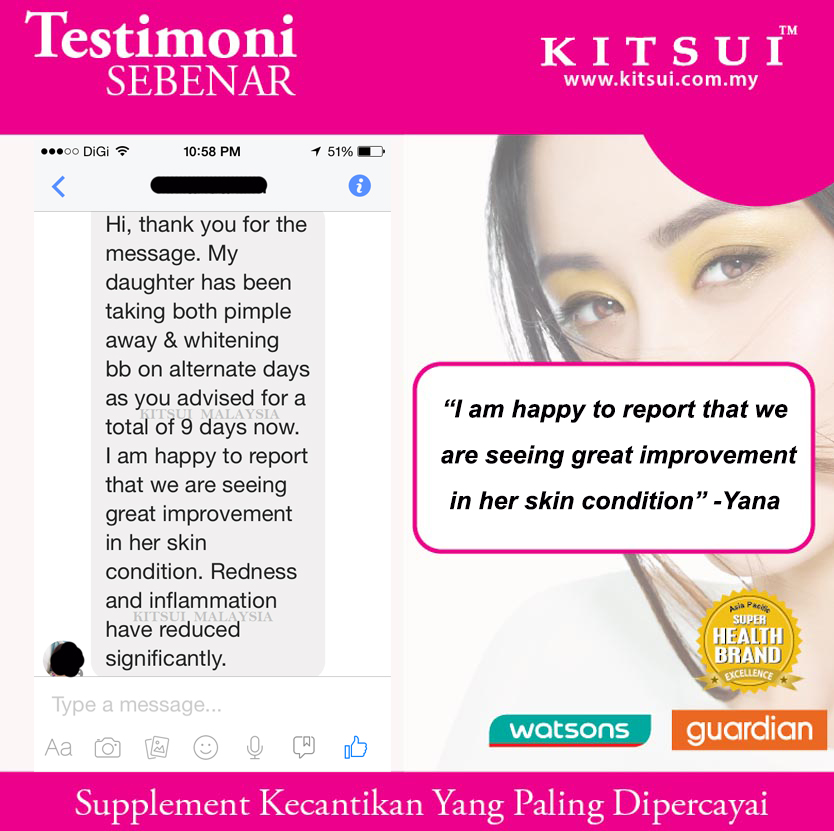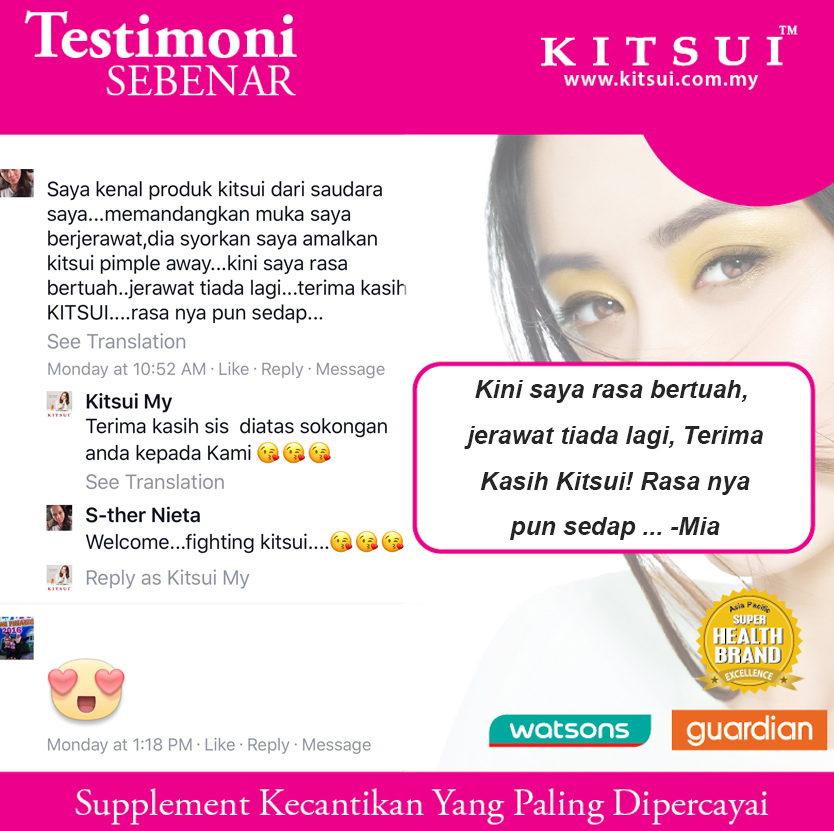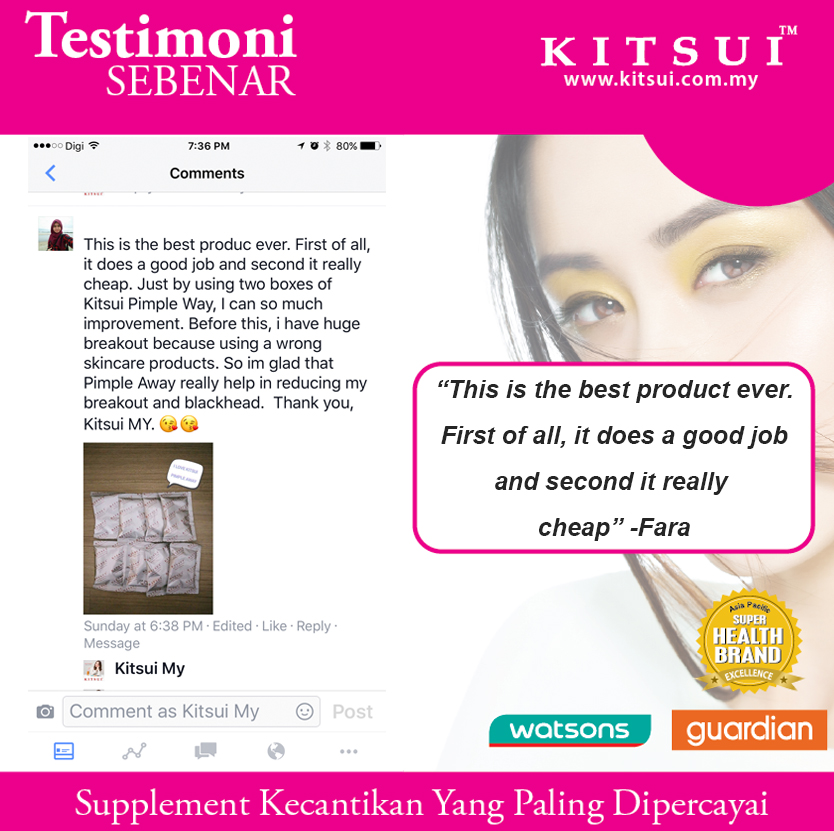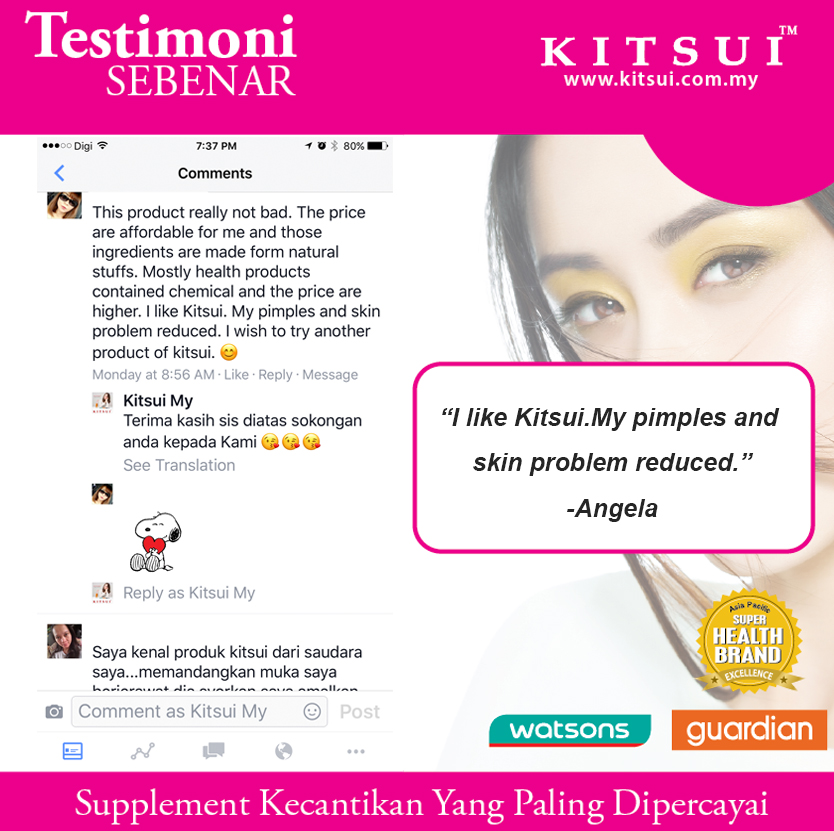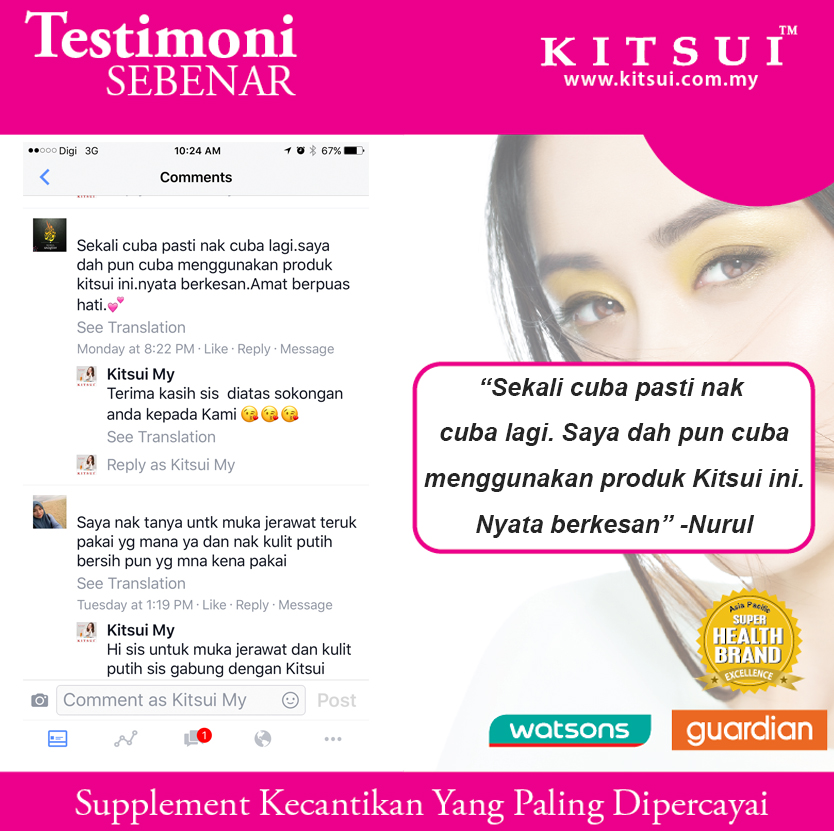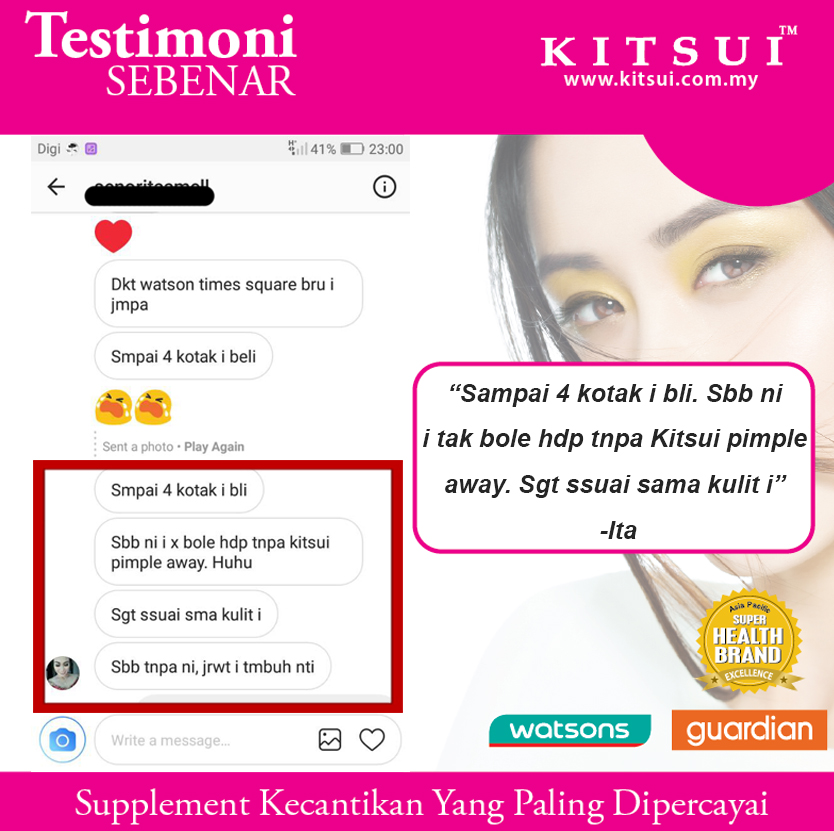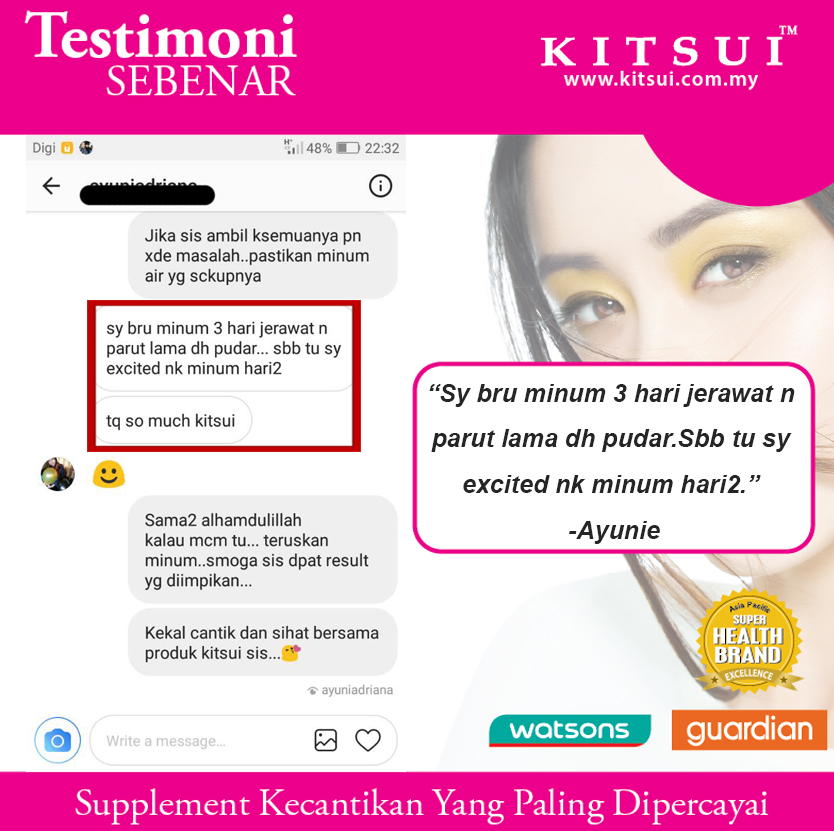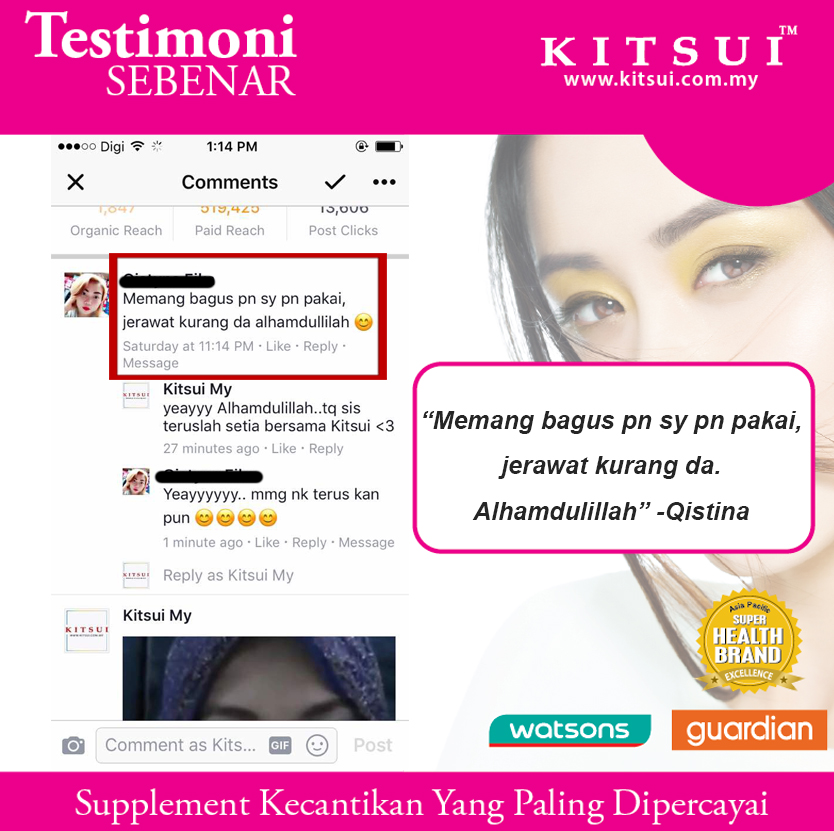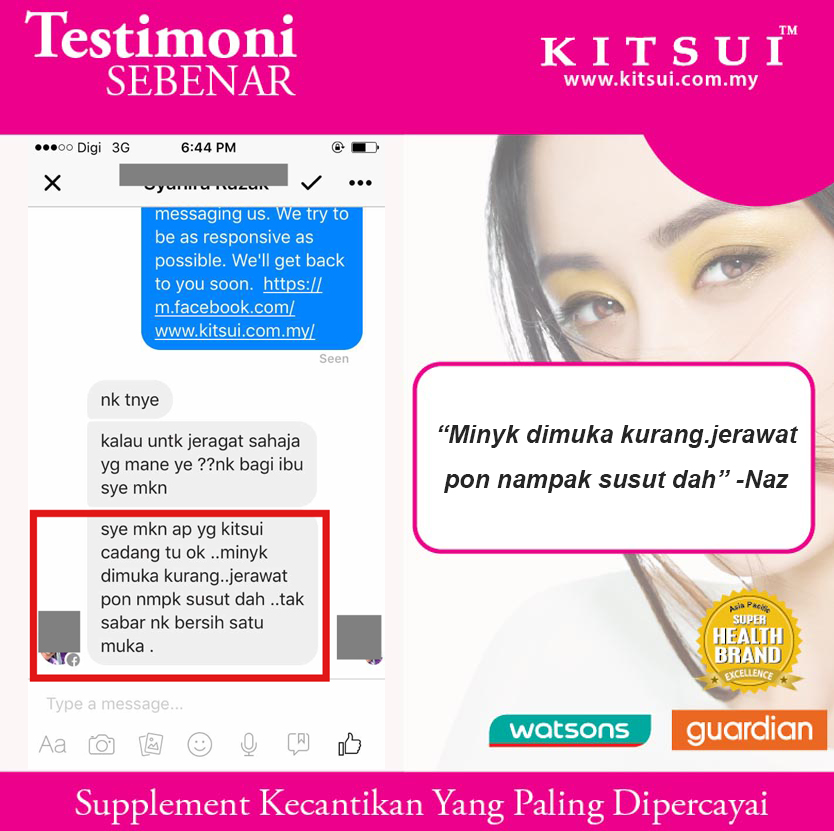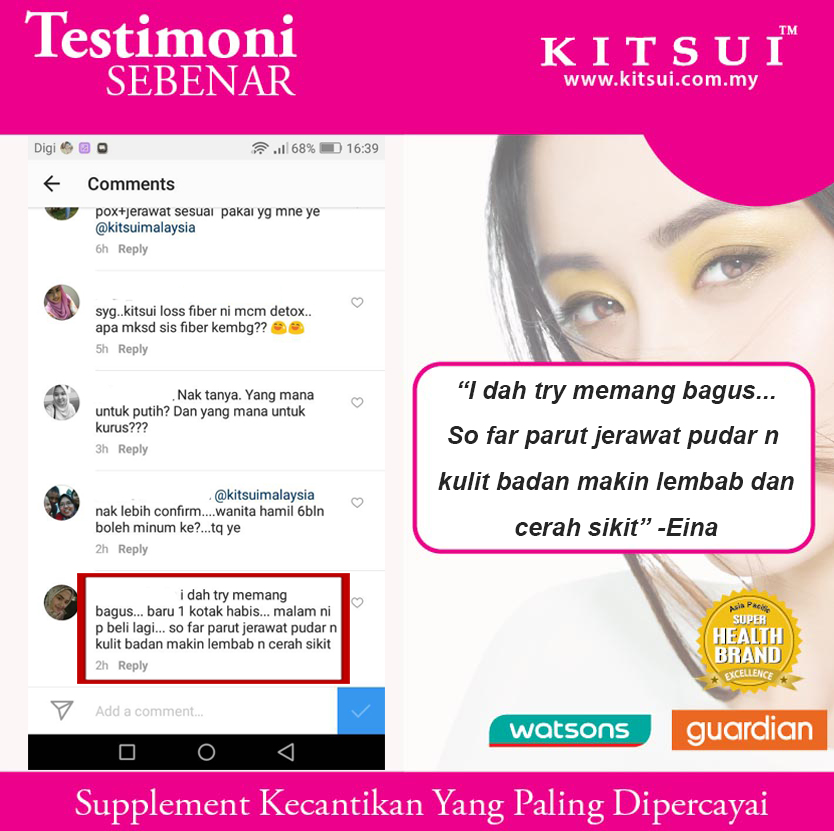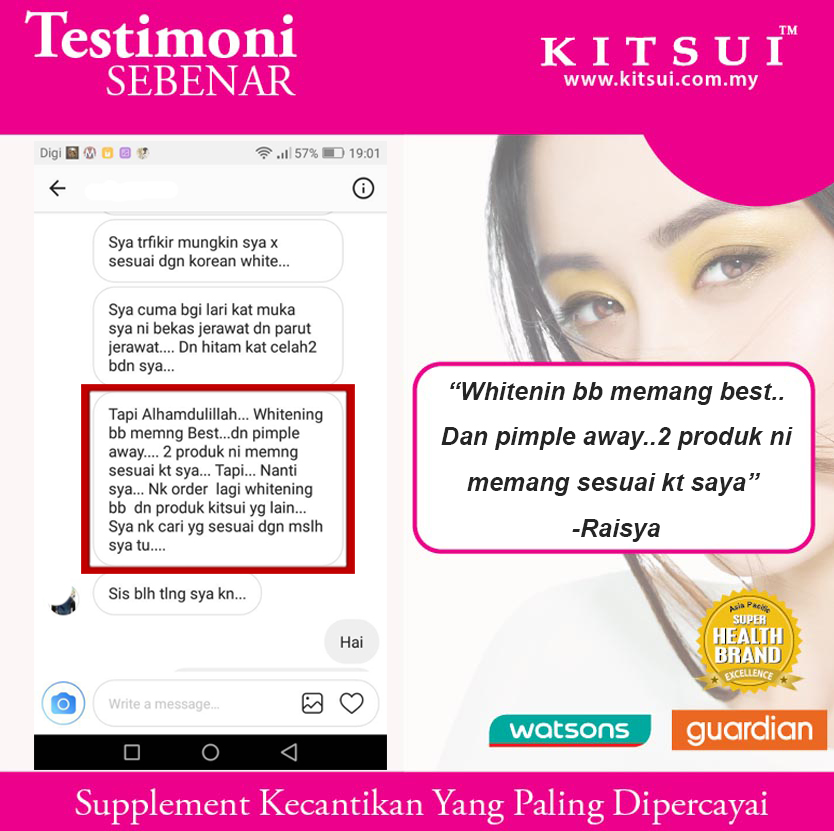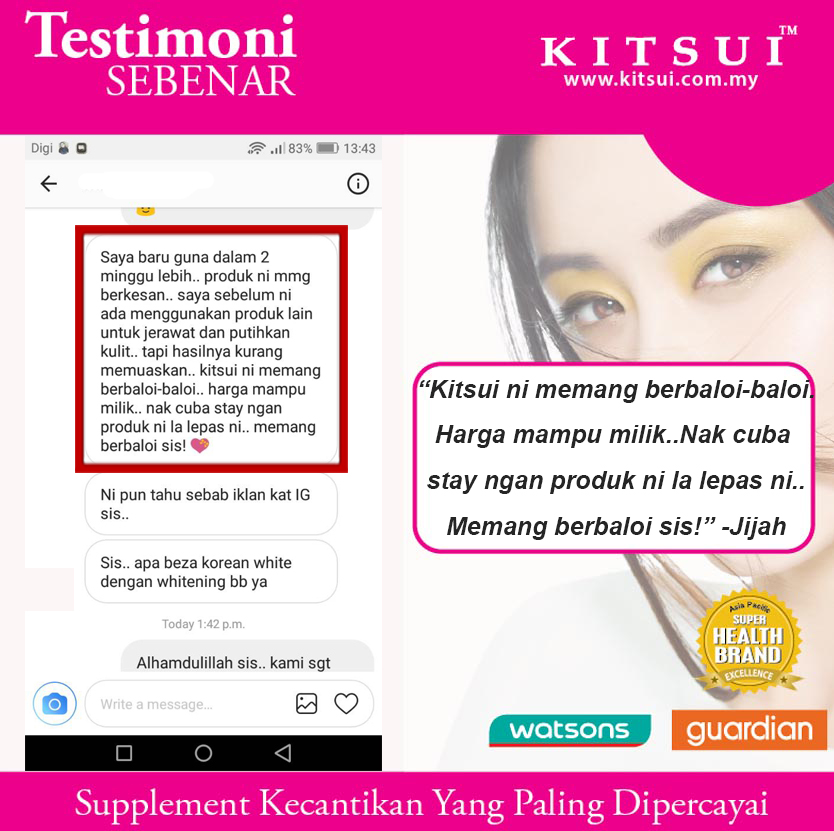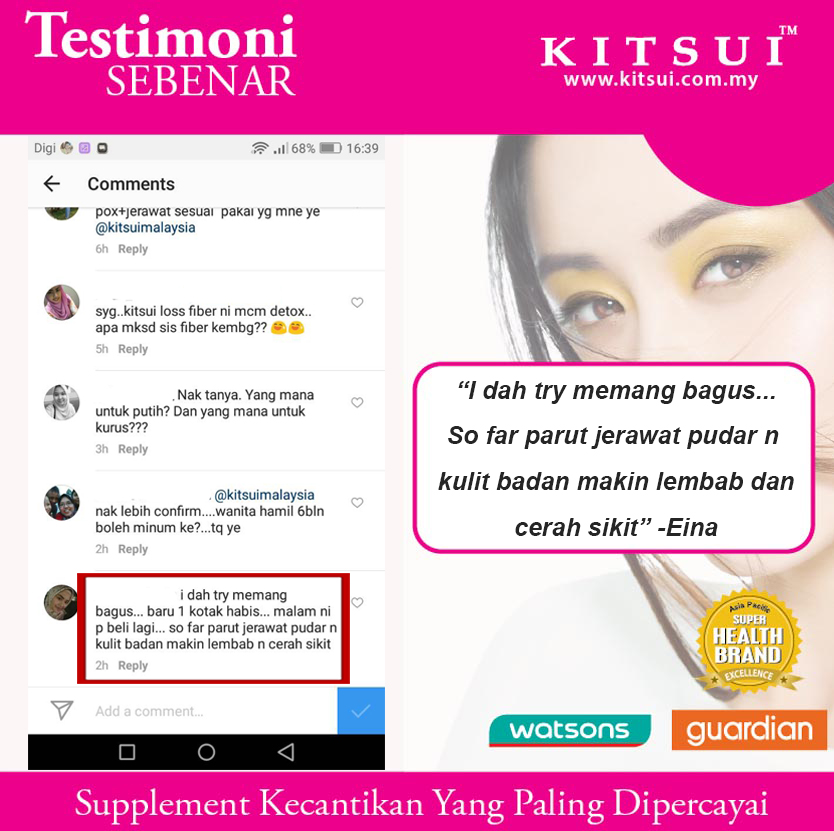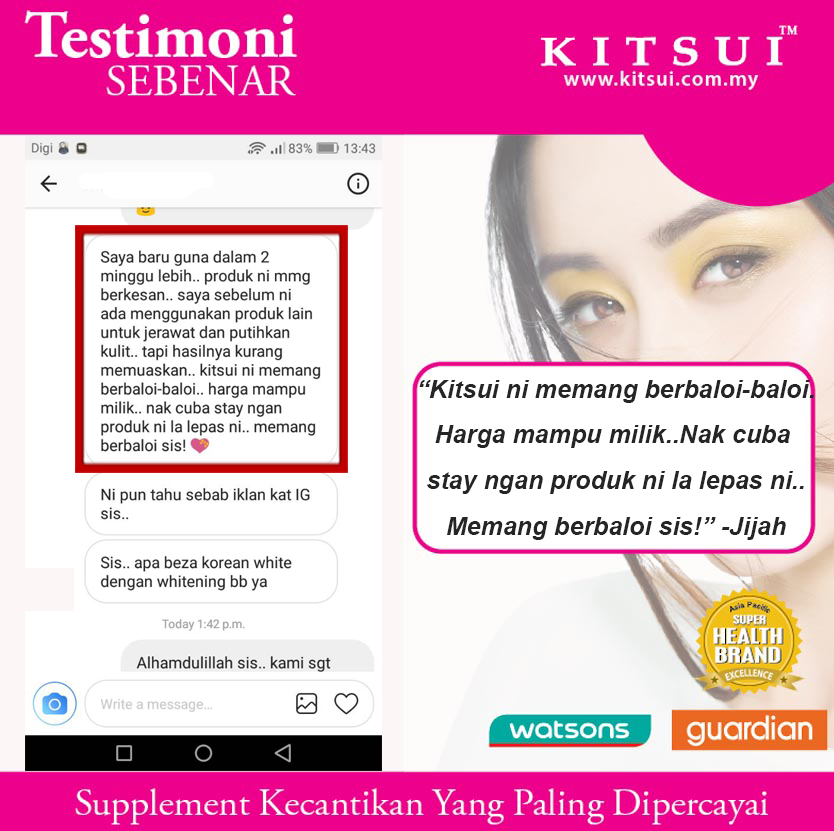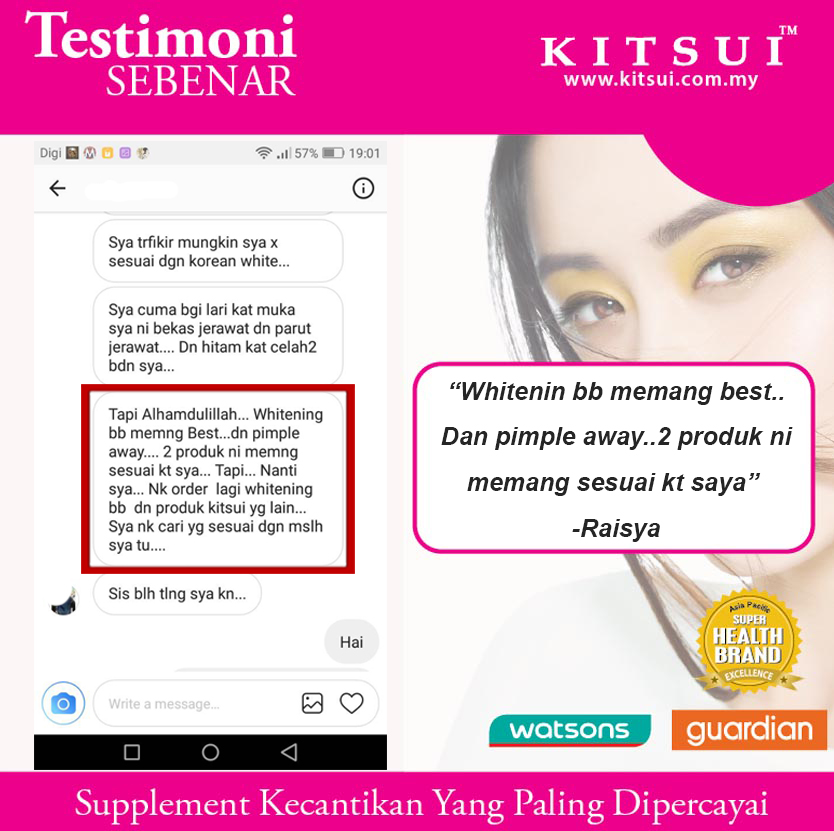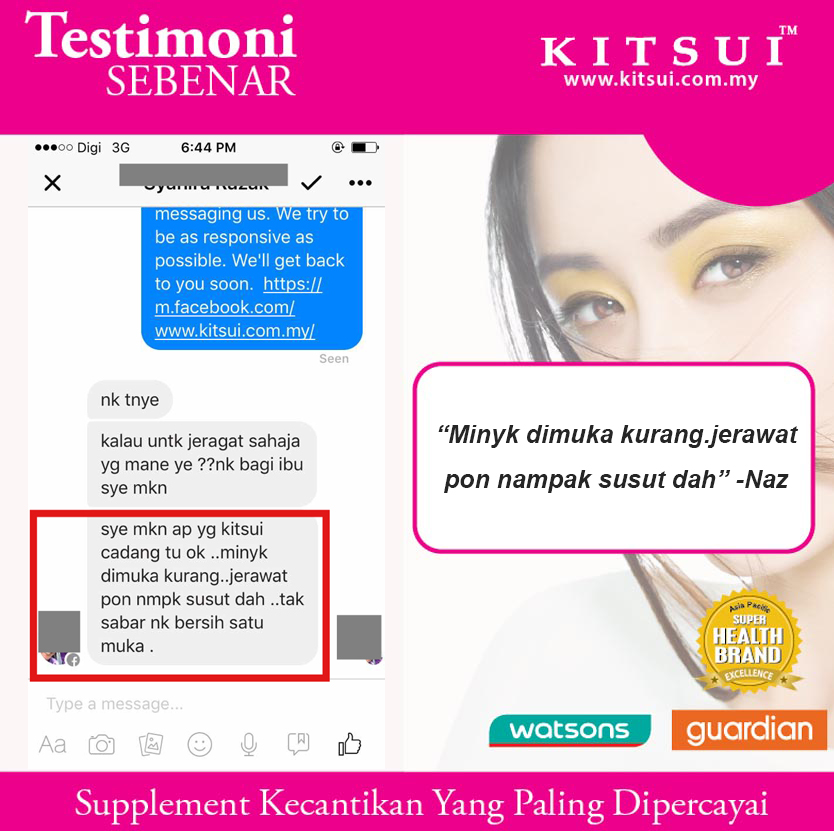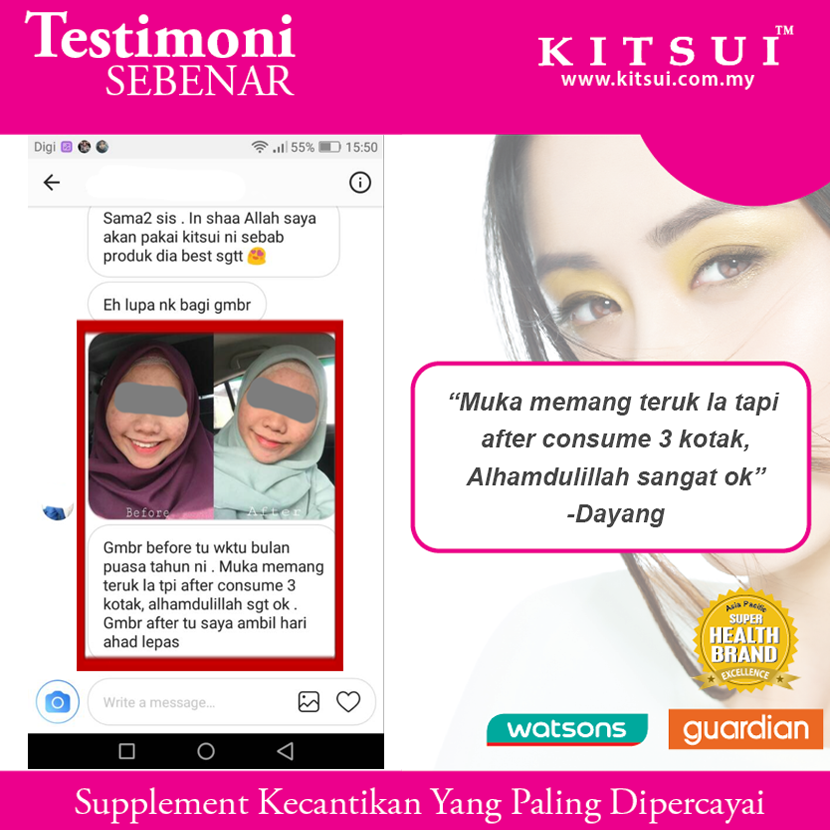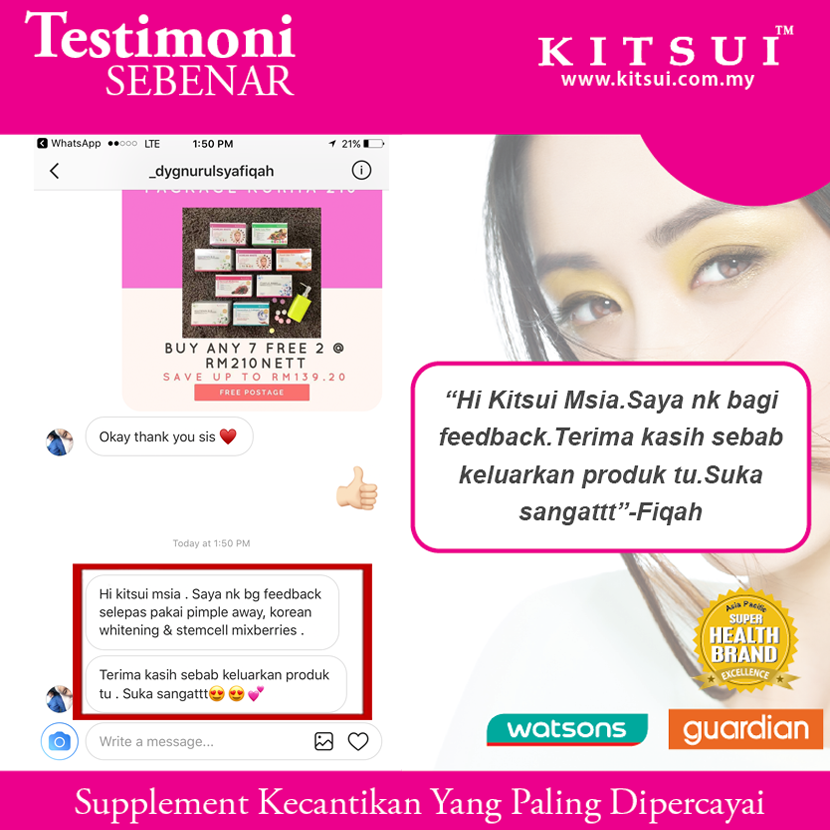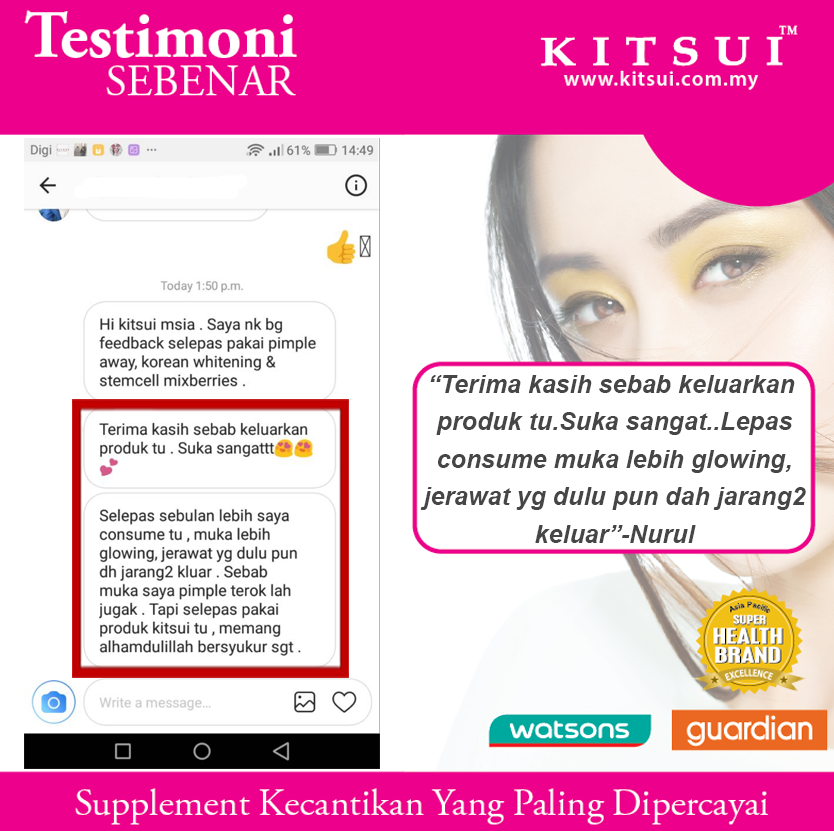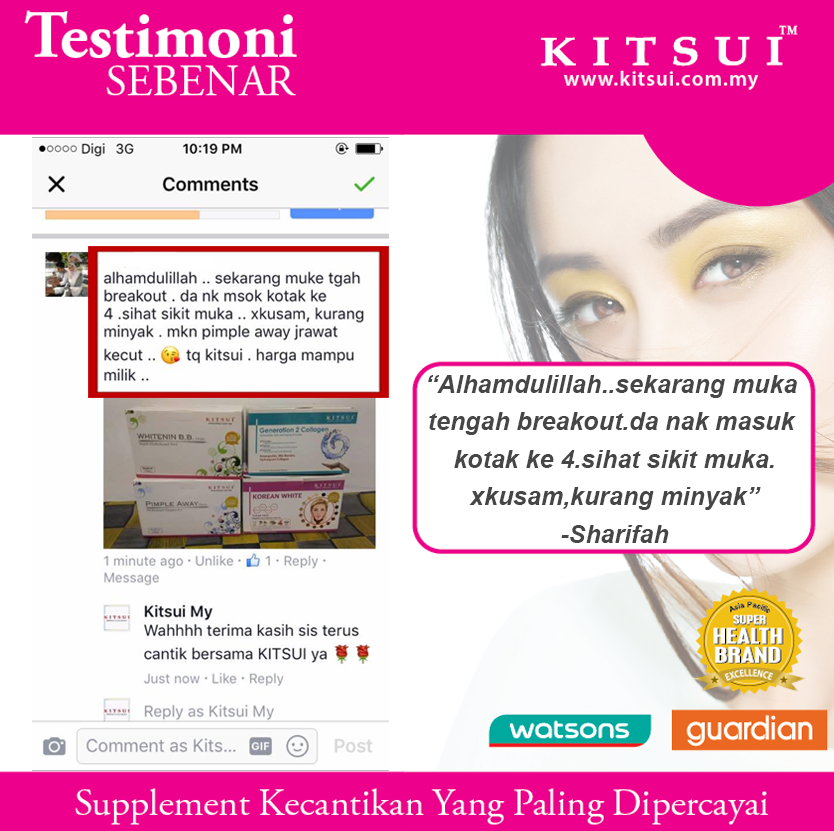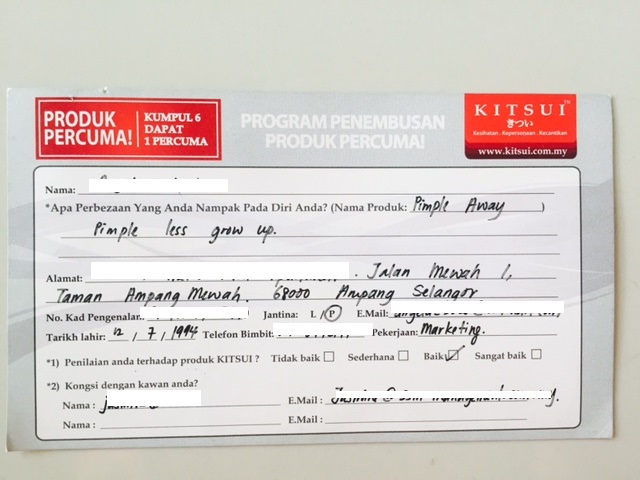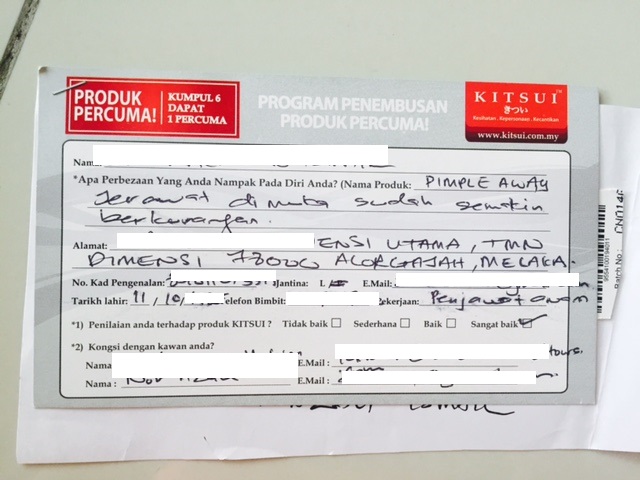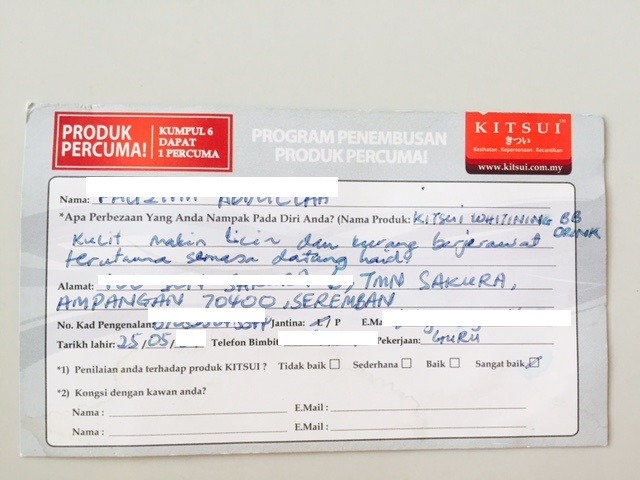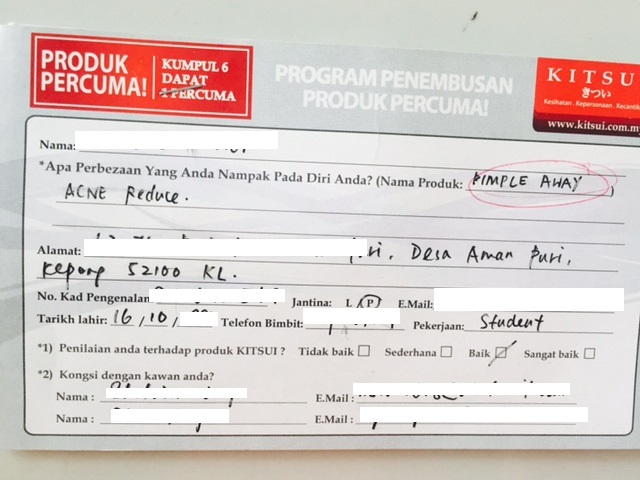 pimple away
Posted by yvonne on 4th Jun 2016
I have acne problem for a long time and have tried numerous products and treatment. At first I doubt that this will work but I just give a try. I only drink 1 sachet during morning right after woke up (empty stomach) because during the night time I consume green tea before bed. And yes, it works wonderfully to me. Do I still have pimple? I would say 95% gone and just some here and there. Would definitely recommend to any that have acne prone skin.
Answer : Hi thank you for your trust and support in our product. Don't forget to follow the redemption program.



New User
great
Posted by Unknown on 13th May 2016
i have been using this product for 2 weeks and my skin has improve a lot! i definitely will recommend this to my friends!

Answer: Thank you for all your support.
New User
Posted by zaty on 23rd Apr 2016
Hi KITSUI,
i am a new user to your product which just about 3 days ago I start drink KITSUI PIMPLE AWAY. So far after 3 days i drink KITSUI PIMPLE AWAY i'm pretty excited to see the result. FYI, my acne scar at my face getting less. I hope it will bring more & more positive result if I keep drink it. THANK YOU KITSUI. But 1 my probem is, i really don't know what is actually the right time for me to drink KITSUI PIMPLE AWAY. 3 days back, I take it 1 sachet before bedtime, and the next morning another 1 sachet. Can you tell me exactly what is the best time to drink it? and how many sachet actually for me to take for 1 day after 3 days already drink it.
Answer : Hi, the way you are consuming is correct. Tq



WELL DONE



Posted by Steve on 27th Aug 2015
i tried many products, from Pills, Cleanser, LED therapy and even professional help

i will always see 1 or 2 breaks for 2 weeks. but after drinking this product on my 3rd box and slowing down to only 1 sachet a day, and can see a full differences on the 14th day(2 sachet a day) of drinking this thing, no more pimples (on the 1-2 week i can see some breaks but only really small one and few days its gone, and the breaks doesn't hurt)

this product works fast, I'm amazed how good it works!!!

pimple scars, well i don't have scars, so i don't know if it clear scars or not

Thumbs Up!!!
Answer: Thanks Steve for the wonderful feedback.
pimple away
Posted by balqis on 13th May 2015
It really works but will my blackheads on my back will it dissapear?

Answer : Thanks for the great feedback. For the pimples on your back, Yes it will go away, it will take a bit longer. Tx.
Consumption after surgery
Posted by Pete Kuzak on 20th Apr 2015
Congratulations to Kitsui team for the product: I dont mind giving it 5 star in my next review if the effectiveness keep on revealing what it claimed despite the most interesting factor of the product compare to others is the price is affordable.
I had taken my 1st box(2 sachets/day). So far, I am very much pleased with the effect on my oily skin. My skin obviously has less shiny.

My question:
1) I am an active sportsman & has pimples on my back. Will Kitsui Pimple Away will also reducing the pimples on my back?
2) I will be undergo a surgery in June, shall I continue or discard my consumption? If i had to discard my consumption, may I know for how long?
Answer : 1) Yes it will cure, its gonna take a slightly longer time.
2) You may continue to consume it. No side effects.
Advice
Posted by Regina on 16th Mar 2015
Hi,
I just finished first box of Kitsui Pimple Away in a week. (Consume 2 sac per day)It is really good. My skin is fully recover and just only left few pimples scare. May I know I still need consume Pimples Away? Can I consume Whitenin BB in morning and Pimple Away in night start from this second week? May I know can I consume this two products during menstruation?

Answer : Congrats. on you healthy skin. You can maintain & continue Pimple Away 1 sachet every 2 days. You may also alternate with Whitenin BB drink. Yes you may consume during menstruation. Tx
iT works wonderfully for now
Posted by Akmal on 6th Jan 2015
i've been facing pimple problem since my teen years until now and been using numbers of pimple products but so far none are effective. few days back i went to watsons and saw this kitsui pimple away on the rack and i went home to make some research about it. I end up buying it and today is my third day using it and what should i say? it is amazing,my pimple starts lessening, redness starts to reduce and really i am so confident about this product! its a must try!
Answer : Thank Akmal. We are really glad that your problem have subsided. Thanks for the feedback.